NXT returns from commercials and we see Jeffrey Hunter in the ring pissed and waiting for Jose Marcos. After his theme finishes, we witness Nash's theme playing through the PA system.
After awhile no one comes out then we see Hunter getting even more angry, he grabs a mic and says while yelling.
Jeffrey: Jose get your punk ass over in this ring right now. I know you're there, or are you forgetting how fast I can knock you out? Well what is it? you are gonna face me like a man or be a pussy yourself. Well? Are you......
As Hunter is going to continue, he is interrupted by a new theme.
As the theme plays, Hunter being clueless tries to speak but his mic ends up not working, then as the theme continues he sees Jose Marcos in the titantron in backstage. The theme ends and he speaks with a Big smile.
Jose: Hey, Jeffrey sorry to say but after your little assault I am found medically unable to compete tonight. And I have to go home for the night but the problem is I'm broke and I have no ride but as I was thinking. I decided why don't I borrow my good friend's car, Jeffrey Hunter.
The cameras point to Hunter's stylish Audi R8 V12 TDI sports car for a couple of second, while Jose whistles of how nice it is.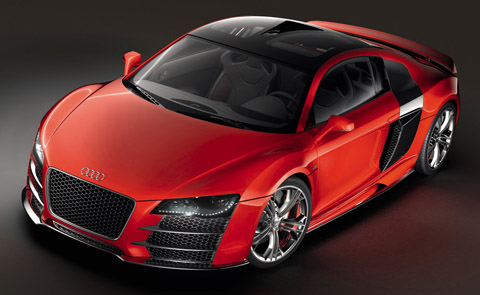 Jose: You may have anger issues, but you do pick sweet looking rides, and that's one quality I like about you. And now while you stay at that ring I'll be driving places in this nice car of yours.
The mic Hunter has activates again and he speaks out of rage.
Jeffrey: Jose you better not do it, How did you get my keys? If you take my car, this will be the biggest mistake of your life, I will end you.
Jose in the driver's seats, messes with engine pretending that he can't hear Hunter.
Jose: What did you say? I can't hear you, I'm loving the engine, anyway can't chat right now, got place to go. By the way, you know how I said I'm broke. Well I LLLLLLLLLLLLLIIIIIIIIIIEEEEEEEEEED.
Marcos pulling his wallet, starts driving the car in a speed of 40 miles in two seconds, the cameras going back to Jeffrey while the titantron shows the NXT. Hunter having a bigger fit then he ever had. Hunter going to say something but relliases that Jose is gone so he tries to get NXT host CM Punk to do something.
TBC: Hunter only or End of Rp