Michael Cole: Welcome back to O.W.E and boy what a show we have had for you so far but its only gets better from there.
Jerry Lawler: You got that right, wait Michael I'm getting something on my headset, and it's happening in the parking lot.
The Titan Tron lights up and we go to the parking lot where a limo comes speeding into the parking lot. The door flies open and we only see's the guys boots as he keeps the camera focused on them. The tron goes blank and we see Jerry Lawler, Michael Cole and the fans confused.
Jerry Lawler: Okay that was weird what was that.
Michael Cole: I don't know but.......................................
Michael Cole doesn't finish his sentence as a familiar theme hits and the O.W.E Universe goes insane.
https://www.youtube.com/watch?feature=player_embedded&v=LonNPQPkNCA
Jerry Lawler: IT CAN"T BE, IT IS, THE BAD GUY IS HERE IN O.W.E
Michael Cole: Jerry just letting you know he goes by the name of Scott Hall now.
Jerry Lawler: It doesn't matter because listen to this ovation.
Scott Hall comes out and slaps the hands of fans and he walks to the side of the ring and asks for a mic and he is given one.
The crowd chants, HALL, HALL, HALL,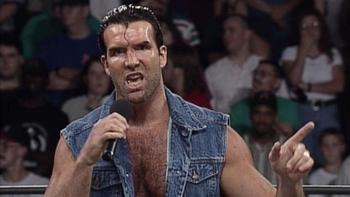 Scott Hall: HEY-YO…
The crowd erupts!
Scott Hall: SHHHHHHHHHHHHH, I was at my home rehabbing from drinking and I get a call from O.W.E Management and we talked for hours about signing with the company and finally after 4 hours of talking I signed the deal. After I signed the dear I worked out harder than I have done.
Scott Hall: There's two names why I came back for and those names ar Big Daddy Cool Kevin Nash and Hulk Hogan. So apparently Hulkamania is managing the Undertaker now and Nash is heck I don't know what's he doing now. Anyway O.W.E Universe I know the things I have done in WCW and the drinking were very horrible things but I hope deep down you could forgive the Bad Guy for what he's done in the past. If not that's cool but if you do then I say thank you.
Scott Hall: So apparently I heard that this week on Smackdown I fight my pal Kevin Nash live in front of all of you. Nash you and I may be friends in real life and in WCW but that changes because in O.W.E we are not pals and will never be because you sided with idiots and not me. So I can't wait to give you a beat down like you have never witness and it will be too sweeet.
Hall is interrupted by......
TBC by Kevin Nash.